Investors Home
Corporate Profile
China Yuchai International Limited ("China Yuchai") is a Bermuda holding company established on April 29, 1993 and listed on the New York Stock Exchange under symbol CYD, with major operations in China. It is a subsidiary of Singapore-based Hong Leong Asia Ltd.

China Yuchai, through six wholly owned subsidiaries, owns a controlling 76.4% equity interest in its principal operating subsidiary, Guangxi Yuchai Machinery Company Limited ("Yuchai"). Located in Yulin City, Guangxi Zhuang Autonomous Region, Yuchai was founded in 1951 and has become one of the largest engine manufacturers for commercial vehicles in China. It engages in the design, manufacture, assembly and sale of a wide variety of light-, medium- and heavy-duty engines for trucks, buses, passenger vehicles, construction equipment, marine and agriculture, and other off-road applications in China. Yuchai also produces engines for diesel power generators. The engines produced by Yuchai range from diesel to natural gas to hybrid engines. To meet the growing demand for clean-energy engines, Yuchai is expanding its production and research and development capabilities in natural gas engines, fuel cells, hybrid power systems, pure electric systems, engine range extenders and electric drive axles.

Through its regional sales offices and one of China's largest networks of authorized automotive customer service centers, Yuchai distributes its engines directly to OEMs and retailers, agents and provides maintenance and retrofitting services throughout China.

Yuchai has a large engine portfolio on several different platforms to address the needs of multiple markets. Yuchai continues to invest in developing engines and technologies in compliance with emission standards upgrades. Its portfolio of on-road engines meets the new National VI emission standards which were mandatory nationwide in July 2021. Yuchai also has developed a complete range of Tier-4 compliant off-road engines in anticipation of the new regulation expected to be implemented nationwide in December 2022.

Yuchai has built a strong reputation among vehicle manufacturers and customers for the performance and reliability of its products as well as its after-sales customer service. In 2022, GYMCL sold 321,256 engines and is recognized as a leading manufacturer and distributor of engines in China.

China Yuchai also holds a 48.9% shareholding interest in HL Global Enterprises Limited ("HLGE") which is listed on the main board of the Singapore Exchange. It currently operates the Copthorne Hotel Cameron Highlands, a hotel in Cameron Highlands, Malaysia.
Stock Quote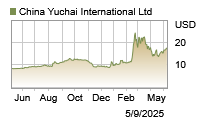 Exchange

(US Dollar)

Price

Change

(%)

Volume

Data as of 12/03/23 8:06 PM EST
Data Provided by Refinitiv. Minimum 15 minutes delayed.