Investors Home
Corporate Profile
China Yuchai International Limited ("CYI") is a Bermuda holding company established on April 29, 1993. It registered a branch office in Singapore on March 7, 2008. CYI is a subsidiary of Singapore-based Hong Leong Asia Ltd ("Hong Leong Asia") and it is listed on the New York Stock Exchange, with major operations in China.
The Group's principal operating subsidiary Guangxi Yuchai Machinery Company Limited ("GYMCL") is one of the largest engine manufacturers in China. Located in Yulin City, Guangxi Zhuang Autonomous Region in southern China, GYMCL engages in the manufacture, assembly, and sale of a wide array of light-duty, medium-duty and heavy-duty diesel engines for construction equipment, trucks, buses and cars in China. GYMCL also produces diesel power generators, which are primarily used in the construction and mining industries. The engines produced by GYMCL range from diesel to natural gas and hybrid engines. GYMCL's products range from 1.2L to 80L over 10 engine platforms with a power range from 60PS to 2400PS. In its current portfolio, the number of engine series offerings is 28 and GYMCL is intending to further expand its reach in the passenger car, marine and power generator markets. While GYMCL produces diesel engines compliant with National IV and V emission standards, it has the ability to produce certain diesel and natural gas engines compliant with National VI emission standards, as well as develop alternative fuels and environmentally friendly hybrid engines with improved fuel efficiency. GYMCL also has the ability to produce diesel engines compliant with Tier 3 emission standards* for use in off-road machinery.
GYMCL has built a strong reputation among vehicle manufacturers and customers for the performance and reliability of its products as well as its after-sales customer service. CYI currently owns 76.4% of GYMCL's outstanding shares through six wholly-owned subsidiaries.
CYI has also invested in HL Global Enterprises Limited ("HLGE") which is listed on the main board of the Singapore Exchange. Currently, CYI holds 48.9% shareholding interest in HLGE.
The core businesses of HLGE are hospitality operations and property development. The HLGE group, through its joint venture companies, owns hotels in Shanghai, PRC, Cameron Highlands, Malaysia and a Copthorne hotel in Qingdao, PRC. HLGE also owns a service apartment building in Shanghai.
Stock Quote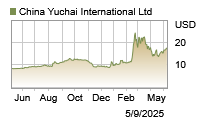 Exchange

(US Dollar)

Price

Change

(%)

Volume

Data as of 06/17/21 9:48 PM EDT
Data Provided by Refinitiv. Minimum 15 minutes delayed.